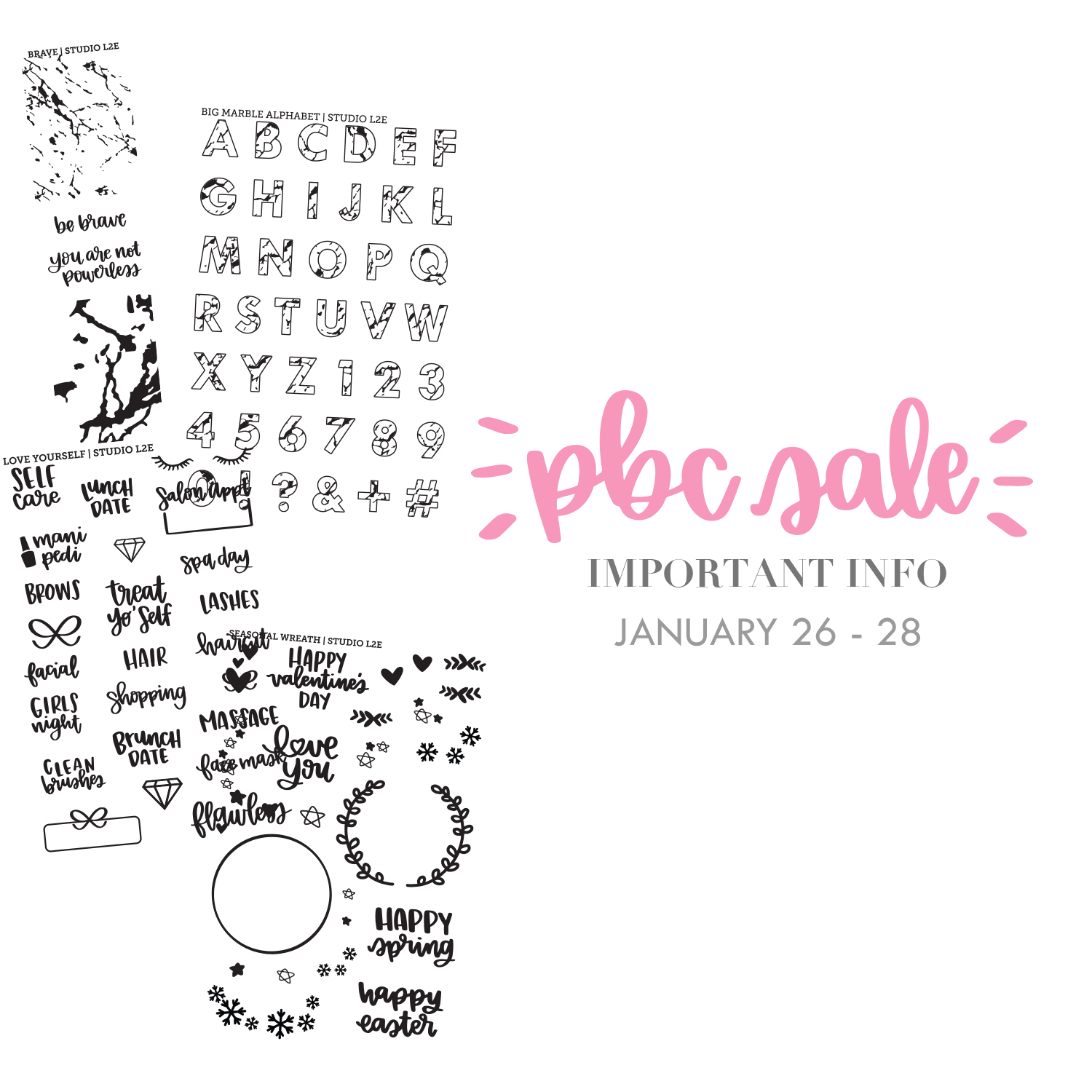 January 26 at 6AM Pacific/9AM Eastern to January 28 at 8:59 PM Pacific/11:59PM Eastern
** Code will be posted on the website when the sale goes live or you can find it at www.plannerbosscollective.com **
* Due to the amount of orders anticipated, I will NOT be able to combine or cancel orders once placed.
* You MUST input the sale code to receive the discount.
Orders will begin shipping right away, please allow 5-7 business days for IN STOCK orders to be processed and shipped. PREORDERS are expected to begin shipping in 2-3 weeks.
---FREE GIFT WITH PURCHASE---
* ALL ORDERS will receive a free February calendar die cut, and a mini sheet of color your own

removable

bow tabs and a clear adhesive pocket.
* Orders of $10 or more will be eligible to purchase the Teacher Plans set for 75% off PLUS an additional 25% off with the PBC discount code, it works out to be

$2.15

. You will be prompted to add the set to your cart once you've met the $10 threshold. You MUST add the set to your cart. Valid while supplies last.
* Orders of $50 or more will be eligible to receive the Birthday Wishes stamp set for FREE. The set will be added to your cart automatically once your order has reached the minimum amount. Valid while supplies last.
---INVENTORY QUANTITIES &
PRE-ORDERS
---
I have a lot of the new sets on hand, however there is always the possibility of stamp sets selling out. IF this happens, I will be opening up a preorder that will ship approximately 2-3 weeks after the sale has ended.
---RESTOCKED SETS FOR THE SALE---
Limited quantities of the following sets will be restocked
I always try to monitor the website when new releases and big sales go live and will be available through the weekend if you have problems.
If you have any issues while on the website please get in touch using the form below. If possible, please include as much details as you can and screenshots of error messages if you are able to.